Youth voice opportunities in March 2023
---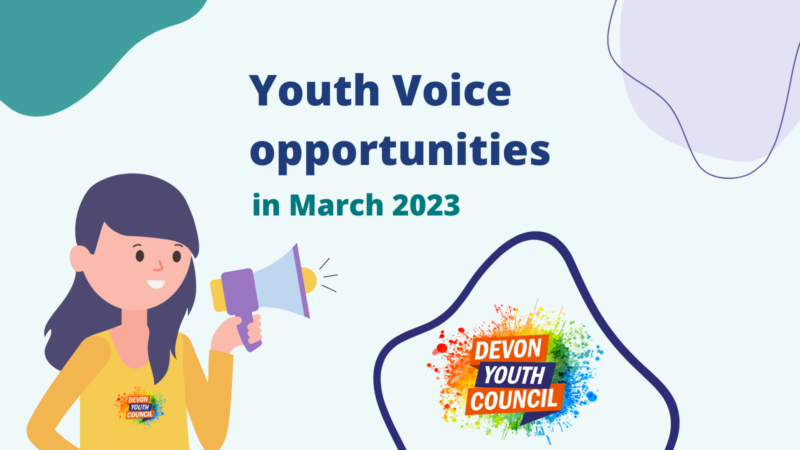 Devon Youth Council exists to get the voice of young people heard and to make a positive change. We're continuing to grow and develop our youth council, and there are lots of opportunities coming up that we'd love to have you involved in!
Upcoming opportunities this month include taking part in shaping a net-zero future in Devon, becoming a Young Advisor for the Life Chance Trust or entering the BBC Young Reporter competition.
If you'd like to get involved with any of these events, please email ukyouthparliament@devon.gov.uk. You can also sign up to the Devon Youth Council Network here.
Take part in imagining a future net-zero Devon!
It's 2050. Devon is net-zero, and a lot has changed – but what does this look like where you live?
The Devon Climate Emergency are inviting people to imagine what life might look like, across Devon in a carbon net-zero 2050. What might where you live look life in this better future? More to the point, what would you want it to look like?  You are invited to create a piece of art, a video, even a podcast, whatever you like, as a group or as an individual and submit your vision for a future Devon. To submit your vision, and to find out more visit the Devon Climate Emergency website.
Help shape Life Chance Trust and become a Young Advisor
Have you had to cope with traumatic experiences growing up? Would you like new opportunities and the chance to help other young people on their journey into adult life? If you've answered yes, then you'll make a great Youth Advisor!
The Life Chance Trust are looking for young people aged 16-25 who have lived experience of Adverse Childhood Experiences (ACEs) to shape their plans, projects and activities. For more information, please visit the Life Chance Trust website.
Enter the BBC Young Reporter competition and share a story that needs to be heard
The BBC Young Reporter competition 2023 has just launched. It's an annual opportunity for 11-18 year olds to share the stories that you think the BBC should be reporting on – you could even potentially produce them with with the BBC! Visit the BBC website for more information and to enter.
Take part in interviewing
Are you interested in making sure that the right people get the right jobs? We are often looking for young people who are willing to form interview panels and help select staff for various roles. While we currently don't have any opportunities coming up, we are looking to create an online training workshop for those who are interested in finding out more and to give you all the skills and information you would need, should the opportunity arise. If you think you'd be interested in finding out more and taking part in an online workshop, please get in touch via the ukyouthparliament@devon.gov.uk email.
Raise awareness of the youth sector provision by contributing to the National Youth Sector Census
The National Youth Agency is running the National Youth Sector Census, which is a survey of all youth sector provision across England. It aims to capture an accurate picture of youth services and out of school activities.
If you are a provider delivering support to young people, places where they can have fun, with the support of a youth worker and volunteers who advise, guide and create opportunities for young people then you should be included.
The deadline is on 31 March 2023, where all information will be featured on the Annual State of The Nation Report due to be published in the summer and will be disseminated to key government decision-makers, MPs, Local Authorities and funding bodies.
Find out more and complete the National Youth Sector Census.