Youth voice opportunities in April 2023
---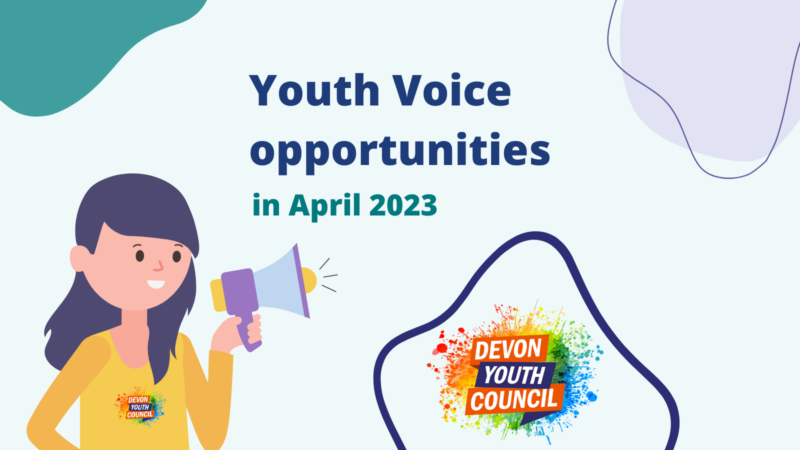 Devon Youth Council exists to get the voice of young people heard and to make a positive change. We're continuing to grow and develop our youth council, and there are lots of opportunities coming up that we'd love to have you involved in!
Upcoming opportunities this month include taking part in shaping a net-zero future in Devon, becoming a Young Advisor for the Life Chance Trust or taking part in the One Young World Summit.
If you'd like to get involved with any of these events, please email ukyouthparliament@devon.gov.uk. You can also sign up to the Devon Youth Council Network here.
Take part in imagining a future net-zero Devon!
It's 2050. Devon is net-zero, and a lot has changed – but what does this look like where you live?
The Devon Climate Emergency are inviting people to imagine what life might look like, across Devon in a carbon net-zero 2050. What might where you live look life in this better future? More to the point, what would you want it to look like?  You are invited to create a piece of art, a video, even a podcast, whatever you like, as a group or as an individual and submit your vision for a future Devon. To submit your vision, and to find out more visit the Devon Climate Emergency website.
Help shape Life Chance Trust and become a Young Advisor
Have you had to cope with traumatic experiences growing up? Would you like new opportunities and the chance to help other young people on their journey into adult life? If you've answered yes, then you'll make a great Youth Advisor!
The Life Chance Trust are looking for young people aged 16-25 who have lived experience of Adverse Childhood Experiences (ACEs) to shape their plans, projects and activities. For more information, please visit the Life Chance Trust website.
Become a Youth Voice Ambassador with Ingeus
Ingeus are looking to bring together passionate young people across the country aged 16-25 as Youth Voice Ambassadors to create a dynamic team ready to act and influence change. Ingeus Youth Voice is designed to give young people a platform to use their voice and to empower them to be better prepared for life and work whilst playing an integral part in shaping their organisations.
There's still time to apply for the role of Regional Youth Voice Ambassador, but please note that the deadline for applications is 7 April.
One Young World Summit 2023
This year, Belfast is the host city for the One Young World summit, a global conference for young leaders. This summit, which is taking place from 2-5 October 2023, brings together over 2,000 of the world's brightest young leaders from over 190 countries, working to accelerate social impact through effective and responsible leadership.
At the end of the summit, delegates become One Young World Ambassadors. They return to their communities and organisations with the means and motivation to make a difference, gain access to a global network of 10,000+ young leaders to help accelerate existing initiatives or establish new ventures.
As part of this, the Education Authority are offering the opportunity to be involved in the upcoming One Young World Summit. If you'd like the chance to become a delegate, please fill out the Education Authority delegate application form. The application process is now open for young people aged between 18 to 25, and applications will close on Monday 17 April 2023 at 12 noon.
Share your experience of staying on a paediatric ward
If you've ever stayed on a paediatric ward, Dr. Alex Childs of the South Devon and Torbay NHS Foundation Trust is holding a focus group to explore the following:
Two different apps which help young people to express their views and feelings.
How to support staff to understand young peoples needs while in hospital.
What resources are needed on a children's ward.
A general discussion of what young people want from their general paediatricians.
The session will take place in April. Please contact participation@devon.gov.uk if you or anyone you know are interested.
Get involved and have your say in the next Youth Voice Saturday event
The next Youth Voice Saturday will be taking place on 17 June and will focus on 16+ transitions. This will cover any big changes you face after age 16, such as leaving school, starting work, going to university or leaving care.
You might like to think about your own experiences and views about any and all transitions or changes that you have faced between the ages of 16 and 25. We'd love it if you could let us know you views and experiences about these transitions. You can fill this form in as an individual, or have run a group discussion and share some of the views you hear through this from.
The UK Youth Parliament, along with others, will be running some peer research alongside this, and more details will be shared next month about how you can share your views.
Help develop new opportunities for those young people with special educational needs and/or disabilities
The Network for Change want to ensure that young people who are not represented in our current groups – including, but not exclusive to, those young people whose communication needs require a wider range of approaches – also have the opportunity to share their views on topics/issues that are important to them and to have these opinions taken seriously.
If your school has young people who might be interested in finding out more about youth voice but are unable to access our current groups, please contact our participation team by emailing either shirin.khastar@devon.gov.uk or amy.bickford@devon.gov.uk.
Speak up for young people with SEND in your school
The Youth Voice Participation Programme is a free programme delivered by our SEND participation team across local schools. The programme seeks to support young people with SEND to learn about participation, youth voice and democratic processes, both inside and outside of school. It also aims to help the young people gain confidence to be able to speak up and promote positive change for everyone.
This month we have launched in Haywards Primary School in Crediton, where we connected with a new group of children with SEND. Over the next few weeks, we hope to get to know these newest participants better and hear more of their feedback about their school and services.
If you are interested in us coming to your school next, please get in touch with Amy by emailing amy.bickford@devon.gov.uk.
Get your voice heard and be a Champion for Change
The Champions for Change group is open to children and young people (19-25 years with an EHCP) who are interested in making positive change.
As part of the Raising Aspirations of Employment Project, the Champions have developed a questionnaire for young people to help others share their thoughts and experiences about careers. The aim of the project is to improve outcomes for young people in special schools around paid employment. The questionnaire is still being finalised, but if you would like to share your views on this project or to find out more on the SEND Local Offer website.
Give your feedback on The Promise
It has been one whole year since young people in the care of Devon County Council finalised and released The Promise. You can read The Promise here.
The Promise is a written assurance that, as care givers in Devon, we will fulfil these specific needs for our young people. It was devised by the young people involved with Stand Up Speak Up (SUSU), and on it's one year anniversary we are seeking feedback from care-experienced young people on whether The Promise is being followed.
To do this, the SUSU team have created a short tick box questionnaire about The Promise. It would be great if you could fill this in, or speak to your PA or social worker to support your complete the questionnaire.
Take part in interviewing
Are you interested in making sure that the right people get the right jobs? We are often looking for young people who are willing to form interview panels and help select staff for various roles. While we currently don't have any opportunities coming up, we are looking to create an online training workshop for those who are interested in finding out more and to give you all the skills and information you would need, should the opportunity arise. If you think you'd be interested in finding out more and taking part in an online workshop, please get in touch via the ukyouthparliament@devon.gov.uk email.