Youth voice opportunities in August 2023
---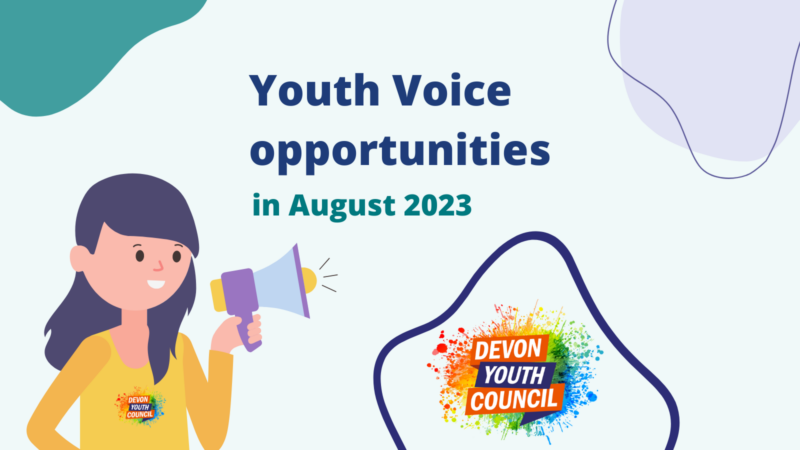 Devon Youth Council exists to get the voice of young people heard and to make a positive change. We're continuing to grow and develop our youth council, and there are lots of opportunities coming up that we'd love to have you involved in!
Upcoming opportunities this month include supporting the UK Youth Parliament's Food for Learning Campaign, joining with British Youth Council to tackle misinformation and the chance to teach teachers about climate change.
If you'd like to get involved with any of these events, please email ukyouthparliament@devon.gov.uk. You can also sign up to the Devon Youth Council Network here.
Teach the teacher
Teach the Teacher is a student-led campaign pushing for climate education for all. It helps equip young people with the skills and knowledge to engage their teachers on climate change and the need for climate education for all. So far, they've trained over 100 students in 50 schools worldwide to deliver a session to their teachers. After these sessions, teachers are given resources to help them include climate in their teaching. Head to the Teach the Teacher website for more information on how it works and how to get involved.
Let's Get Loud Voters Hub
Research by the British Youth Council shows that young people often cite a lack of political education as a key barrier to voting. That's why they've launched Let's Get Loud, a campaign to tackle misinformation and present you with the facts.
Check out the voter hub on the British Youth Council website, which is there to offer guidance and support so that you feel prepared to participate politically.
Food for Learning campaign
The Food for Learning campaign has come about as a result the 2022 Make Your Mark ballot, where nearly half a million young people nationally shared that their biggest concerns were surrounding the cost of living and mental health. Through focus groups last summer, we discovered in more detail about how the cost of living was having a negative impact on young peoples mental health. And following these focus groups and debates in the House of Commons, the cost of living was voted as being most impactful on our mental health. The UK Youth Parliament Steering Group then took this to partner organisation and advisors to figure out how we could have the most impact on this issue. From this, the Food for Learning Campaign was born, and since April this year, we have begun campaign for universal free school meals. As part of this, we have also shared our plan to create a youth-led bill that will be shared with UK Government.
If you want to join us in this campaign, please do get in touch and we'll let you know what we are doing locally.
Become a Children's Commissioner Ambassador
The Children's Commissioner is launching a big project to hear directly from children and young people across England about what they think, what they want to see and the solutions they want for themselves and the next generation. And as part of this, the Commissioner is launching her Ambassadors Programme – a voluntary opportunity for young people aged 16 and 17 to champion solutions and amplify the voices of children in England.
The programme will last one year, with the option to extend, and it will give you the chance to get in front of changemakers and policymakers and to champion solutions alongside the Children's Commissioner for England.
For more information and to apply, please refer to the Children's Commissioner Ambassador application form.
Applications close at 23:59 on Monday 25 September.
Young Devon and South West Enterprise Fund
Young people in Devon can now apply for grants to help them get into training and employment or to set up their own business.
The Training and Employment Support Grant awards up to £500 for any young person (16 to 30) who is entering training, an apprenticeship or starting a job after being unemployed.
South West Enterprise Fund awards up to £2,000 for young people (18 to 30) with plans to start their own business within 6 months or have a business trading for less than 2 years.
Please refer to the Devon County Council website for full details about these funds.
Understanding healthy relationship needs in Devon
Devon Safer Lives and Communities want to better understand how people in our county see issues around healthy family relationships, domestic abuse and violence and how these impact their daily lives. The main goal of this project is to hear about how you felt and whether you think there is the right support out there for people stuck in an unhealthy relationship or if more can be done to make them feel safer.
As part of this project, the team would like to hear from anyone with experience of domestic abuse, current or historic. If you would like to give your thoughts, please complete this anonymous survey.
All views and ideas will be valued, and the information you share will be used to better understand the needs in Devon of those who face abuse of any kind and will also be used to develop future services.