Youth voice opportunities – January 2023 update
---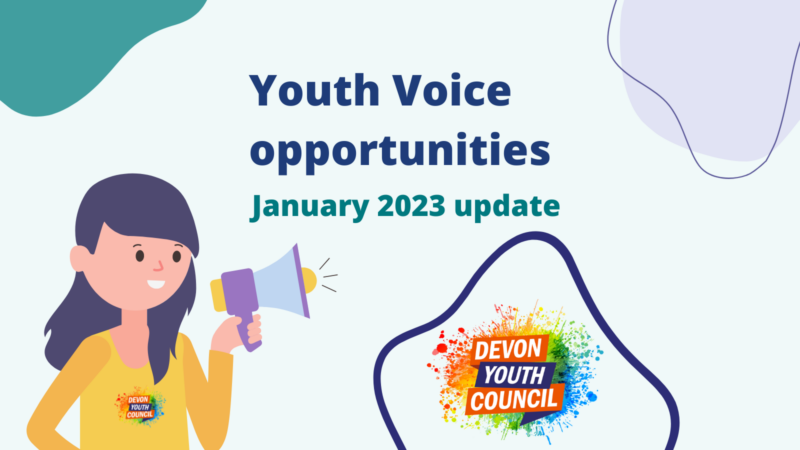 Devon Youth Council exists to get the voice of young people heard and to make a positive change. We're continuing to grow and develop our youth council, and there are lots of opportunities coming up that we'd love to have you involved in!
Upcoming opportunities this month include the chance to become a Youth Ambassador or to help out with improving mental health services.
If you'd like to get involved with any of these events, please email ukyouthparliament@devon.gov.uk. You can also sign up to the Devon Youth Council Network here.
Help make Votes at 16 a reality!
The Votes at 16 Manifesto is just around the corner, and you can give your thoughts to help underscore the case for support. Your views can help get that step closer to lowering the voting age! Give you thought about the Votes at 16 Manifesto here.
Become a Youth Ambassador or Sustainable Futures Advisor
The British Youth Council (BYC) and WWF-UK are seeking 26 young people from across the UK to become Youth Ambassadors and Sustainable Futures Advisors.
WWF-UK Youth Ambassadors (aged 13-17)
WWF-UK are inviting 12 young people (aged 13-17) to join the Youth Ambassador programme for between 1-3 years. Within your role as Youth Ambassador, you will be supported to work alongside WWF to co-create exciting campaigns, projects, and events. If you are passionate about caring for our planet, then this could be the perfect opportunity for you.
Sustainable Futures Youth Advisory Group (aged 14-18)
WWF-UK are looking for 14 young people to help shape Sustainable Futures programme. Meeting monthly for the next 18 months, this group aims act as advisors and bring fresh ideas to this new project. You don't need to be passionate about the environment to do this role, but you will be keen to share your perspectives and experiences – and be interested in skills, jobs and the future of work and careers.
Head to the BYC website to find out more and to apply.
Make a difference for Mental Health
Following on from our Youth Voice Saturday Event last term, we have had a number of meetings to develop a youth led action plan. The action plan outlines the key areas for change and what we hope to see happen. We are working on making this action plan available online so that everyone can keep track of the progress being made. In the meantime, if you would like to be more involved in making a difference for mental health, please get in touch.
Take part in interviewing
Are you interested in making sure that the right people get the right jobs? We are often looking for young people who are willing to form interview panels and help select staff for various roles. While we currently don't have any opportunities coming up, we are looking to create an online training workshop for those who are interested in finding out more and to give you all the skills and information you would need, should the opportunity arise. If you think you'd be interested in finding out more and taking part in an online workshop, please get in touch via the ukyouthparliament@devon.gov.uk email.
Make a difference and promote youth voice
You can make a difference for more young people by letting people know about the Youth Council and all the opportunities mentioned above. Make sure you follow us on social media to keep up to date with opportunities to have your say and get your voice heard and share these opportunities with friends. We are committed to getting the voice of young people heard and need your help to get your friends involved and speaking up on the issues that are important to them.