Devon schools reduce carbon dioxide on journey to school
---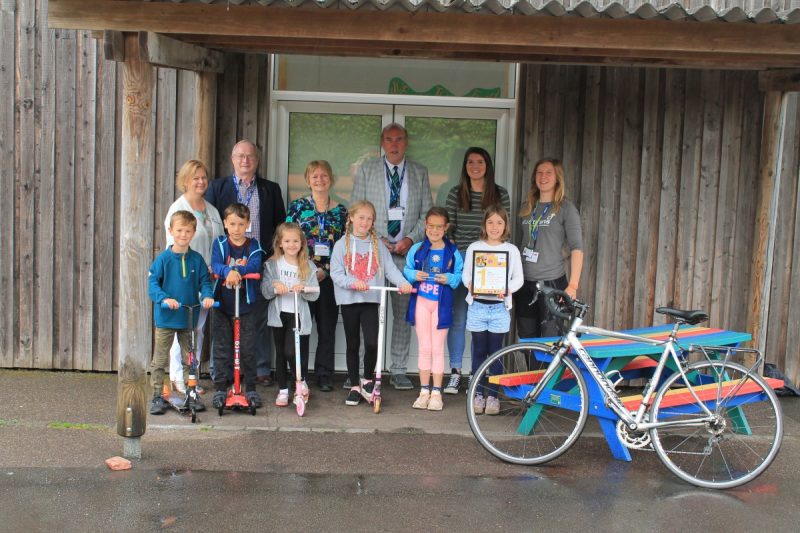 Devon's school children reduced local air pollution during a two-week challenge which encouraged active travel to school last month.
Pupils from 29 Devon schools, who took part in the annual Big Pedal challenge organised by cycling and walking charity Sustrans, walked, cycled and scooted their way to make an astonishing 45,465 journeys.
By choosing sustainable alternatives to travelling by car, their efforts saved 115 kg of dangerous nitrogen oxide (NOx) and 53 tonnes of carbon dioxide (CO2), which is a major contributor to climate change.
In Devon, children travelled 227,325 miles actively during the challenge, which equates to more than nine trips around the world. NOx can cause breathing problems, reduce lung function and damage teeth. The reduction in CO2 and NOx was calculated by comparing this to the amount generated if all these journeys had been taken by car.
Children at Pinhoe C of E Primary School and Haytor View Community Primary School have won special recognition from Sustrans for their achievements during the Big Pedal.
Pinhoe Primary was the best large primary school in Devon and an impressive 31st nationally, with 88% of pupils actively travelling and logging 6,147 active travel journeys. Pupils enjoyed a trophy presentation attended by Devon County Council Cabinet Member with responsibility for cycling Councillor Stuart Hughes, local County Councillor Hilary Ackland and Sustrans Active Travel Officer Charlotte Stokes.
The school, with support from the Sustrans Active Travel Officer Charlotte, held a number of activities across the two weeks including a bling your bike parade, learn to ride sessions and pedestrian and road safety training. The pupils also helped the school to design and deliver a campaign to tackle illegal and inconsiderate parking outside the school gates. Cardboard cut-out children were positioned outside at peak times as a visual reminder of no parking zones.
Victoria Ibbeson, School Champion, PE lead and Class Teacher at Pinhoe C of E Primary School said: "All of the children were really engaged during the Big Pedal week, ensuring they made an effort to either walk, cycle or scoot to school. Even children who live further out were parking their cars away from school and walking the last part to be active. Bling Your Bike Day was a huge success with amazing designs being created on scooters and bikes, all being showcased in a fantastic parade around our playground."
Haytor View Primary was the best small primary in Devon and 69th nationally, logging 2,440 journeys and with an outstanding 84% of its children actively travelling to school. Year 4 and 5 pupils took part in a Smoothie Factory workshop where they designed and made their own pedal powered smoothies and pupils took turns to log up miles during the school day with the static Turbo Bike. Pupils also enjoyed a trophy presentation by their Sustrans Active Travel Officer Helen Morse.
Graeme Hankin, Year six teacher at Haytor View Community Primary in Newton Abbot, said: "To get our children enthused and to promote the safety awareness that is essential for cycling and scooting, we rely on our growing partnership with Sustrans. Our ongoing commitment as a community to learn even more about making journeys more sustainable helps us look optimistically to the future with the key benefits this can provide to us as human beings – fitness, well-being and a better environment."
A special mention should also be given to St Peters C of E Secondary School who came 15th nationally with 3,240 journeys.
The results of the Big Pedal comes hot on the heels of two important new pieces of research:
Sustrans published YouGov data in March which showed that almost two-thirds (63%) of teachers would support a school gate vehicle ban during drop-off and pick-up times and that more than half (59%) want urgent Government action to improve air quality near schools
Public Health England called on local authorities in March to limit transport emissions urgently, banning idling car engines around schools and investing in foot and cycle paths.
Sustrans' Regional Director for the South, James Cleeton, said: "The children, families and schools of Devon have shown how individuals can dramatically improve the world around them, by replacing cars with human power for just part of the daily routine.
"These children haven't just prevented the emission of dangerous, invisible pollutants around their schools, but they've improved their mental and physical health, giving all of them a better start to the school day.
"At Sustrans, we're so grateful to every local authority, school, teacher, parent and child who has helped make this possible. What a great start to summer – and a glimpse of what school mornings in Devon could be like in future."
Sustrans works with many of the schools involved in the Big Pedal as part of the Devon Active Travel to Schools Project' which is delivered by Sustrans and funded by Devon County Council through the Access Fund (Department of Transport).
Councillor Stuart Hughes, Devon County Council Cabinet Member with responsibility for cycling, said: "It was encouraging to see a record number of schools taking part in this year's challenge. The County Council is committed to working with organisations and communities to continue reducing carbon emissions in Devon, so the Big Pedal is an ideal way to get young people think about their journey to school and help improve their local environment. Hopefully they'll have realised the benefits of walking, cycling or scooting to school and fingers crossed we can get even more Devon schools involved next year."