Devon celebrates Young Carers Awareness Day
---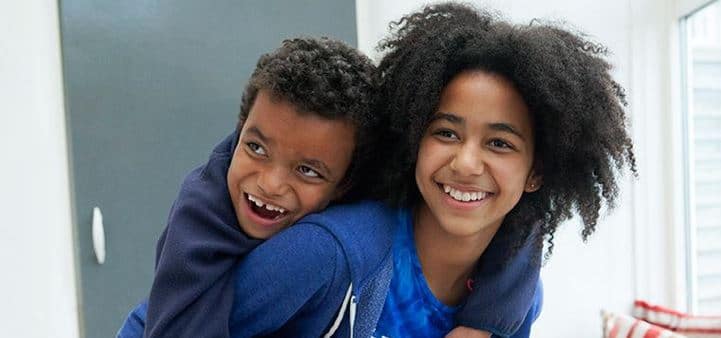 "My mum was born without a thyroid gland. She has learning difficulties and some physical problems, and she gets depressed.  Her problems have affected me and my sister in lots of ways.
"The Young Carers worker called a meeting with people like my teacher and a social worker from the Disability Team.  My family and me went to the meeting.  We came up with a plan to help my family in lots of ways.  The main thing was to get some support for my mum so that we didn't have to help her so much, and we wouldn't get into messes all the time.
"Because my teachers were involved in the meetings, they knew about things at home and I had lots of help when I was doing my GCSEs.  Young Carers also arranged for me to see a coach which helped me to decide on some goals for the future.
"I did OK in my GCSEs, and I am now at college and have just got an apprenticeship."
Abbie (not her real name)
One in five secondary school-age children have active caring roles at home.
With a quarter of people experiencing mental ill-health at some point in their lives, mental health support for young carers has never been so important.
Last year Devon Young Carers, which is commissioned by Devon County Council, actively supported over 1,100 young carers in Devon.
But they're just the ones we support. There is lots more we can do to support, which is why we are asking young carers and their families to contact Devon Young Carers.
This year, Carers Trust has launched the Count Me In! campaign asking schools to do more to identify young carers and to make sure they are recognised and supported. That includes making sure that young carers know how to access their local young carers service.
Devon Young Carers is supporting the campaign and taking their message out to schools and colleges this week, for national Young Carers Awareness Day, Thursday 30 January.
They are talking to school Heads, teachers and pupils about the support available through Devon Young Carers.
Many schools already recognise young carers among their pupils, and through their welfare support teams provide support to help them with their education and wellbeing.
Most Devon schools have young carers champions who are known to pupils. These act as go-to contacts for young carers within the school, but they also ensure that schools stay tuned into young carers needs, with their policies and ways of working.
The Devon Young Carers team will be looking at how schools already support young carers, and what else they might be able to do in future.
Councillor James McInnes, Devon County Council's Cabinet Member with responsibility for the young carers service said:
"We hear stories like Abbie's often, and they never fail to inspire me. These are young people, dealing not just with the things that most other young people are dealing with – schools, friendships, their own mental health for example – but they're also dealing with the physical and mental impact of caring for someone else.

"We see it too often that young carers are sometimes not obvious to others and that their needs go unnoticed or not responded to.

"I'm pleased to say that most of our schools are very aware that they have young carers among them, and many provide a level of support to them.

"But I would like to see that recognition more. Not just in our schools, but in all of us as friends, neighbours and society as a whole.

"This week, Devon Young Carers are visiting schools across the county. They will be helping them look at ways they can improve their carers' support. They'll be talking to young people too to raise awareness that among their friends and colleagues, there may be some that have caring roles at home.

"I'd like everyone to have our eyes open to young carers. And I'd like young people who are involved with the care of someone else at home to know that there is support available to them."
Liz Smith, Devon Young Carers Service Manager, said:
"Many schools are doing a great job supporting young carers and Devon Young Carers would like to see more schools recognised for their good work by them achieving the national Young Carers in School Award through the Carers Trust. If any schools would like support to achieve this they can contact our specialist Schools Support Worker."
Devon County Council commissions the Devon Young Carers service.  They, the Police and health services – the partners of the Devon Safeguarding Children Partnership – are working together to try to ensure that all children and young people, young carers included,  have healthy and happy lives.  Visit our website for more information about young carers.
To contact Devon Young Carers, telephone or leave a message on 03456 434 435 or email youngcarers@devoncarers.org.uk.
Find out more about Devon Young Carers here or you can access the Devon Young Carers App here.
You can also support the Carers Trust Count Me In! campaign and find resources here.
Get involved on social media by using the hashtags #CountMeIn and #YoungCarersAwarenessDay, or check out @carerstrust @devoncarers and @westbank