School and college leavers encouraged to earn while they learn
---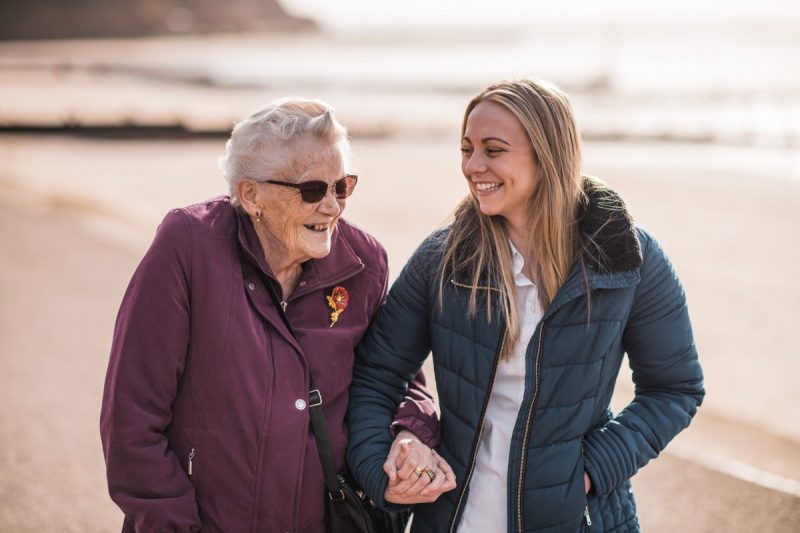 While universities remain a popular destination for school and college leavers before embarking on the working world, more young people are seeing just as attractive the opportunity to gain professional qualifications while on the job.
A Proud to Care recruitment campaign launches in Devon this week, aimed at 17 to 25 year olds, to encourage them to consider careers in the county's growing health and social care sector.
As young people weigh up the benefits of gaining a university education, tuition fees considered, the prospect of 'earning while learning' is attracting more school and college leavers as they complete secondary or further education.
And Devon's health and social care employers are tapping into that job-ready and eager to earn, eager to learn, cohort.
"All the health and social care employers in Devon are working together to champion health and social care jobs," says Jane Viner, Chair of the Devon STP Workforce Strategy Group and Chief Nurse at Torbay & South Devon NHS Foundation Trust.
"We now see many more entry-level job opportunities coming through, with the NHS and social care employers providing first rate training, leading to professional qualifications.
"And we know that employees are in most cases staying with their employer after completing their training, which suggests job satisfaction and opportunities to progress their careers within their organisations.
"We consider that the time and money spent training young people, enabling them to gain first-hand experience , is a very worthwhile investment.
"Professional qualifications are important for young people seeking to further their career, and we are seeing more on-the-job learning opportunities in a really diverse range of health and social care settings, that lead to qualifications."
Bree
18 year old Bree has always been into her sports. After A-levels she got a job as a Bank Physiotherapy Assistant at the Royal Devon & Exeter hospital. She soon took on more responsibility as a Rehabilitation Support Worker and now works on the wards supporting older people, many of whom have dementia.
"As well as supporting a team of Physiotherapists and Occupational Therapists to improve patients' physical health, I also support their emotional health and wellbeing. I'm pleased with how my career is progressing and feel lucky to have such valuable hands-on experience aged just 18. I would like to become a fully qualified Physiotherapist, and as well as studying for that at University, I can also choose an apprenticeship route."
Phoebe
21 year old Phoebe started weekend work as a kitchen assistant in her local care home in Exmouth while at school. She loved it, so when she left school she became a care worker there. She worked hard and trained at college and achieved professional qualifications in care and management. She's now a Wellbeing Facilitator at Bluebird Care, a domiciliary care company in East Devon.
"I'm so proud of what I have achieved so far. There are lots of varied opportunities in care and health. It's such an exciting area to work in. The best part of my role is seeing people's reactions and getting feedback from them. Knowing that I am improving the quality of someone else's life is so rewarding. It's so much more than just a job!"
Bronwyn
From an early age, Bronwyn instinctively wanted to help people who were unwell, and to become a nurse. After A-levels, she started a Diploma in Nursing at university, but failed a module in her first year. She successfully applied for temporary work experience in a radiology department, and that helped her secure an apprenticeship that allowed her to study and work in the hospital at the same time. Having achieved that, she progressed within the hospital and gained experience working in procedure rooms, clinics and in the local community. Now age 26, Bronwyn is working full time in the Acute Medical Unit and is taking her level five Diploma in Healthcare.
"As a Trainee Assistant Practitioner, I mainly work alongside registered nurses, enabling patients to get back on their feet and return to their own homes to live independently. The most rewarding part of my role is knowing that I've helped someone. I first see patients when they are very unwell or worried and I always try to make them smile. I share their journey from being in a very low place to walking out of hospital to go home. knowing that I've contributed to that is so rewarding. I absolutely love my job."
"The range of jobs, including at entry-level, across the health and social care sector is staggering," says Em Wilkinson-Brice, Deputy Chief Executive and Chief Nurse at the Royal Devon & Exeter NHS Foundation Trust.
"We are urging school and college leavers and younger people who have not yet considered careers in health and social care, to do just that. They will be surprised to discover the variety, the training opportunities, the prospects for career progression. But also they'll discover how rewarding it can be to work in a sector that cares for others."
To find out more about the campaign, and to see real examples of people now working in health and social care visit https://www.proudtocaredevon.org.uk.