Introduction
Hello and welcome to SaFest!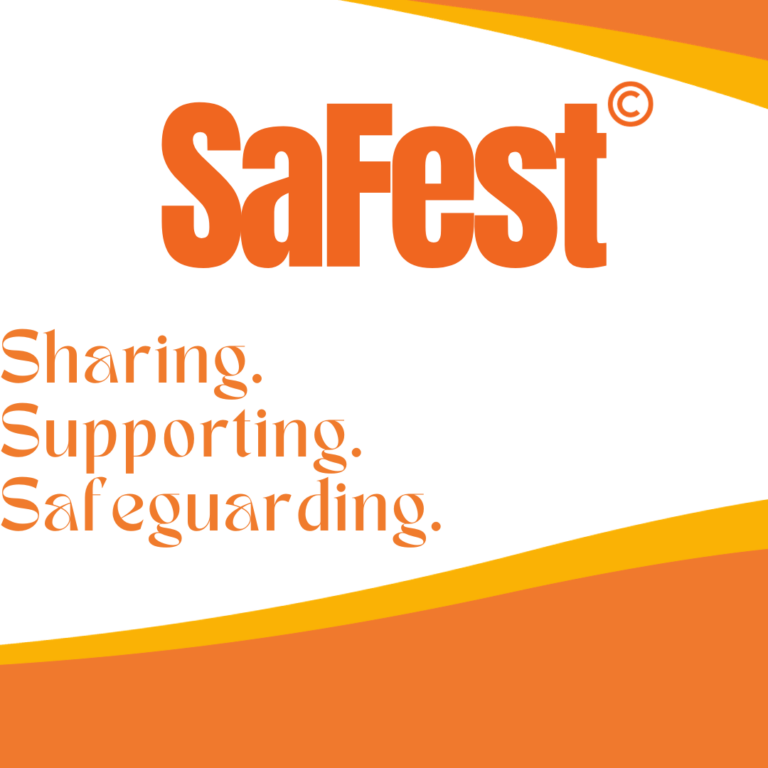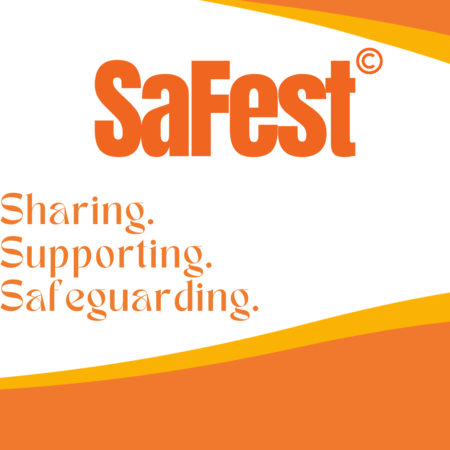 Thank you so much for joining us to celebrate our 4th year. We are so very proud to be able to continue bringing you our virtual festival of incredible speakers and workshops that all share our passion of helping to keep our young people safe.
SaFest would not be possible without our wonderful speakers and organisations giving up their time in order to present to us so that we can all continue to learn and grow as champions for young people.
So please, sign up, take the time and space to allow yourself to be immersed in this festival of learning, take away your new found knowledge, and continue to share knowledge and good practice, support each other and our young people and safeguard.
The conference is free and is designed to facilitate professional networking and the sharing of good practice, all while taking a look at the latest research about working with young people in any safeguarding capacity. Safest is a virtual event facilitated by the Devon SCP and is open to colleagues across the professional network.
To book your place, please complete the SaFest 2023 booking form.
---
A printable version of this timetable is available here.
---
Day One
Welcome to SaFest 2023!
🕘 09:00 – 09:15
👤 The SaFest Organising Team
Opening Address
🕘 09:15 – 09:30
Spark UK – Young People's Mental Health Awareness
🕘 09:30 – 11:00
👤 Conor Warren
Conor Warren is a 17-year-old mental health advocate and founder of Spark UK, an award-winning organisation dedicated to supporting young people's mental well-being. Conor's journey began at just 14 when he founded Spark UK. Spark UK creates free lessons, resources, and campaigns for thousands of young people across the country. The organisation has collaborated with celebrities including Dame Judi Dench, Dame Emma Thompson and Stephen Fry as well as established organisations such as BAFTA, Place2Be and Beyond.
Conor's impact has reached far and wide, earning him recognition in prominent publications like Men's Health, The Guardian, and The One Show. He's been honoured with prestigious awards such as the Rotary Young Citizen Award and the Prince of Wales award, and even had the privilege of being named a Coronation Champion, attending the Coronation Concert at Windsor Castle.
Away from Conor's work with Spark UK. He's a trustee, ambassador, and active member of various charitable organizations, passionately supporting causes ranging from mental health awareness to hospice care.
Get to know Conor better by visiting his personal website at www.conorwarren.co.uk and connect with him on LinkedIn (www.linkedin.com/in/iamconorjames) and Instagram (www.instagram.com/iamconorjames).
Break
🕘 11:00 – 11:15
Safeguarding in Sport and Bystander Training
🕘 11:15 – 12:15
👤 Kevin Murphy
Kevin has worked within the children's workforce in a number of roles for a significant number of years. He has been a front-line practitioner and worked his way up through the ranks to become an operational manager and finally was a Head of Service for a local authority children's services department. Kevin has a wealth of experience working with vulnerable children and their families and he has a unique perspective and understanding of special educational needs and disability (SEND).
Kevin can be contacted on 07399 449 045 or Kevin@nwgnetwork.org
SaFest On The Sofa – Exeter
🕘 12:15 – 12:30
Vaping and Smoking among Young People - Research Findings
🕘 12:30 – 13:30
👤 Dr Jasmine Khouja – Senior Research Associate / Tobacco and Alcohol Research Group
Jasmine Khouja is a Senior Research Associate in smoking studies at the University of Bristol. Her work focuses on the causes and consequences of e-cigarette use as well as the potential impact that e-cigarette policy changes could have on adults who smoke or vape and young people. Using a range of methods, she has explored a wide variety of topics, including the gateway hypothesis (that vaping causes people to start smoking), possible health effects of vaping, and the potential impact of hypothetical e-liquid flavour bans. The overall aims of Jasmine's research are to reduce health inequalities and to provide supporting evidence for policies and regulations which protect young people from harm and discourage smoking.
Vaping is a huge issue among young people in the UK right now, and particularly an issue for vulnerable young people. This presentation will cover recent findings from a survey of young people in the Southwest in which they were asked about their vaping experiences, opinions about vaping, and ways to reduce vaping in secondary schools. Jasmine will discuss how the University of Bristol are using these findings and working with young people to create an intervention to help young people stop vaping and discourage others from starting to vape. She will also discuss what the health risks of vaping are and tools which professionals working with vulnerable people can use if they are concerned about young people, they work with who are vaping.
Lunch break
🕘 13:30 – 14:00
Nighteye Project / Misogyny and Importance of Challenge
🕘 14:00 – 15:30
👤 Mathew Sinker – Devon and Cornwall Police
I am the Devon and Cornwall Police deputy force lead for tackling Violence Against Women and Girls, a position I hold with genuine pride. I've been a police officer for over 23 years, and I've worked in a variety of roles, mainly as a detective and also in uniform. For the last 8 years I've been a detective sergeant and have led teams dealing with sexual offending, domestic abuse, modern-day slavery, and high-harm offender management.
'On my watch'
In this presentation I will give an overview of the Devon and Cornwall Police response to tackling Violence Against Women and Girls; where we've come from as an organisation, what we're doing now, and where we're headed. This presentation will be delivered with positivity but with honesty and candour, acknowledging that there is no room for complacency and that we're still learning and developing as we continue to address issues of, for example, discrimination, misogyny, and abuse of power. I'll be leaning into my own career experience and speaking about wider cultural issues, and reflect on what it means to me personally as a police officer and as a man to be tackling these issues on my watch.
Break
🕘 15:30 – 15:45
Restorative Practice
🕘 15:45 – 16:45
👤 Debbie Raymond – Devon Children's Services
Before coming to Devon, Debbie worked as Head of Safeguarding, Quality Assurance and Participation for Westminster, and then also for the Tri-Borough area from 2010-2017. In this workshop Debbie will reflect on learning from complex and high-profile investigations, with specific reference to abuse at Southbank International school, which became a global investigation. This workshop will explore what happens when organisational culture enables predatory abusers, and how we can all contribute to safeguarding practices that prevent harm.
SaFest On The Sofa – North
🕘 16:45 – 17:00
Goodbye, closing for the day – and quick run through of the next day
🕘 17:15 – 17:30
👤 The SaFest Working Group
---
Day Two
Opening address
🕘 09:00 – 09:15
The London Schools Consent Project
🕘 09:30 – 11:00
👤 Monica Bhogal – Director, The Schools Consent Project
Monica is the Director of the Schools Consent Project, a charity which sends lawyers into schools to teach 11-18 year olds the legal definition of consent and key sexual offences, such as rape, sexual assault, and 'sexting', through interactive workshops. She practised as a solicitor for 15 years, specialising in defamation and privacy claims. She is also the parent of two teenagers. Monica is passionate about educating and empowering young people, by ensuring they have accurate and comprehensive knowledge to enable them to enjoy respectful, fulfilling relationships. By making the next generation confident of their legal rights, able to communicate their boundaries, and respectful of those boundaries in others, she believes we can support the wider cultural change that we are all looking to achieve, not just in our schools but in society as a whole.
Break
🕘 11:00 – 11:15
Fearless – Crimestoppers
🕘 11:30 – 13:00
👤 Hannah Halls
Hannah has worked in Policing and Crime throughout her career working across Local Government and the charity sector. Starting her career as a Metropolitan Police Office, Hannah has also worked for the Mayors Office for Policing and Crime in both the Youth Justice and Violence Against Women and Girls policy teams. Hannah is now the National Youth Projects Manager for Crimestoppers, with national oversight of their Fearless project.
Fearless is the dedicated youth service of the independent charity Crimestoppers. They provide young people with the opportunity to give information about crime 100% anonymously. This presentation will cover – What is Fearless? Snitching and the bystander approach.
Lunch break
🕘 13:00 – 14:00
SaFest On the Sofa – North
🕘 14:00 – 14:30
Lads Like Us
🕘 14:30 – 15:30
👤 Danny and Mike
Lads like us from estates we're from don't speak out about trauma, it's seen as weak and the last thing you want to be in our world is vulnerable.
Too many of our mates have taken their lives because of toxic masculinity and been let down by services. We exist to change the narrative and pioneer a trauma informed approach so boys and men are heard.
SPACE Youth Service Devon
🕘 15:45 – 16:45
👤 Steff Holwill
Steff Holwill has 20 years experience of delivering street based youth work. She has worked in some very challenging environments to offer equality of opportunity to harder to reach groups and communities. By utilising her open access youth work skills in a more targeted arena Steff has been able to foster environments where young people who do not traditionally engage well, are able to assess their own and others' part in the safety of their communities.
This workshop will look at an innovative project designed to encourage young people to assess the risks and consequences of their actions as well as their impact on others. The workshop will focus primarily on the contribution multi agency working has on the success of a Street based youth work intervention within a community.
Goodbye, closing for the day – and quick run through of the next day
🕘 17:30 – 17:45
👤 The SaFest Working Group
---
Day Three
Opening address
🕘 09:00 – 09:30
University of Durham
🕘 09:30 – 10:30
👤 Delphine Peace
I am a researcher in the Department of Sociology at Durham University, and part of the Contextual Safeguarding Research Programme. Using embedded and action-orientated research, I work alongside practitioners to develop new approaches to safeguarding young people from extra-familial harm. I am currently working on the ESRC funded Innovate Project, in partnership with Sussex University, exploring how services are addressing harm experienced by young people outside of the family home, building new knowledge about the processes of innovation in social care. I am also working on the Contextual Safeguarding Across Borders project, exploring the applicability of Contextual Safeguarding in international settings with a particular focus on refugee young people in Europe.
Break
🕘 11:00 – 11:15
Using insights and learning from Place-based research to better inform services and professionals working with children who have experienced exploitation.
🕘 11:30 – 12:30
👤 Bethan Kelly – National Programme Development Manager for Sexual Abuse and Exploitation, Barnardo's
As the National Programme Development Manager for Child Sexual Abuse and Exploitation at Barnardo's, I am an Accredited CSE Specialist (ACSEP) and a seasoned leader and practitioner in trafficking and exploitation services for children and young people. With over 12 years of diverse experience in frontline child protection and safeguarding, I am committed to effecting positive change and championing the rights of vulnerable youth.
Collaborating closely with commissioning bodies and services, I have been instrumental in redefining support packages that prioritize children's needs, contextual safeguarding methodologies, innovation, and co-production. By placing children, young people, and parents at the heart of service design and delivery, I believe in fostering holistic and sustainable solutions that drive meaningful change.
My enthusiasm for sustainable and transformational change is unwavering. I am dedicated to partnering with professionals, agencies, and organizations to cultivate trauma-informed, strength-based models of intervention and support.
Lunch break
🕘 12:30 – 13:30
SaFest On The Sofa
🕘 13:30 – 14:00
Hair at The Academy Exeter
🕘 14:00 – 15:00
👤 Marion Shaw and Tyler Gray
Marion is the Attendance & Wellbeing Officer and Social Worker at Hair At The Academy. Her role is to support students, who have a wide range of needs, to ensure they stay engaged and continue on a path to educational success. Marion is an accomplished professional with over three decades of experience, dedicated to working with young people in care. With a background as a registered social worker, she has held positions of increasing responsibility, including 12 years as a Registered Manager of a children's home and another 12 years as a Fostering Team Manager. After a brief break from her career in fostering, Marion joined Hair At The Academy to fulfil her true passion of working directly with young people. Leveraging her diverse experience, Marion builds meaningful relationships and provides unwavering support to ensure that students feel safe and supported. She takes great pride in being part of The Academy's amazing team and firmly believes in the transformative power of dedicated training and personalised support.
Tyler Gray is the Salon Manager and Assessor at Hair At The Academy. His inspiring journey with The Academy began at the age of 15 when he joined as a student. Despite initially grappling with low self- confidence, complex learning needs, and mental health challenges, Tyler's dedication and the unwavering support of The Academy's team propelled him toward personal growth and success. Through tailored training and ongoing mentorship, Tyler transformed into a confident and qualified tutor, now serving as Salon Manager. His profound industry understanding and commitment to excellence have earned him the respect of his peers and colleagues. In 2021, Tyler was appointed as the Mental Health Ambassador for Hair At The Academy, drawing from his own journey of resilience and transformation to mentor other young individuals. He believes in the transformative power of education for mental well-being and strives to raise awareness and foster a supportive environment within the industry. Tyler Gray's remarkable progression from a vulnerable teenager to a highly regarded manager and mentor exemplifies the influence of support, education, and a nurturing environment. His professional path showcases the potential for personal growth and success when individuals are provided with the right tools and guidance.
Break
🕘 15:30 – 15:45
Tackle Exploitation Behind Closed Doors
🕘 15:45 – 16:45
👤 Joanna Grimshaw
Jo is the Head of ASB and Partnerships for Surrey Police with the additional portfolio of youth engagement and tactical lead for Serious Violence working within the Prevention and Problem-solving Team. Jo is responsible for a team of 7 ASB specialists and ASB Sgt who work closely with police teams and partner agencies to deal with ASB, either through prevention, intervention or enforcement. She tactically and strategically advises the Force on ASB which has included implementing policy and procedure for the ASBCPA 2014 and the use of ASB legislation and other ancillary orders to help tackle and disrupt serious and organised crime and child exploitation.
Jo has produced and implemented the Surrey Partnership ASB Plan and has helped with the commissioning of a victim service for repeat and vulnerable victims of ASB and a support service for victims who have been exploited due to cuckooing. She has also recently ensured that Surrey's Community Trigger process was refreshed to include the recommendations from ASB Help and the Living the Nightmare Report 2019. She organises the County's Practitioner Forums and the annual Surrey Tackling ASB Awards and ASB Awareness weeks.
Positive Partnership Working – A Young Persons Perspective
🕘 16:45 – 17:30
👤 Rachael Grimshire (Avocados) and Claire Richardson (PT) – Avocados Advocacy and Participation
Katie and Rachael Co Created Avocados Advocacy. A Legal advocacy service and independent community for anyone with care experience across Devon. Katie, Avocados Director of legal Advocacy is a paralegal in training and has lived experience of the care system. She has been studying whilst setting up this service to help others with care experience to understand their right and entitlements. Katie has previously worked in social care on projects in Lifelong Links and Life After Care and has worked in the supported housing sector as a Support Worker. Katie is passionate about making sure young people know their rights and get the support they are entitled too. Katie is also a Squash coach for children in Exeter and loves Table Tennis, having played competitively in her youth!
Rachael is the Avocados Director for community but also an Independent Social Worker who also spent 5 years working in a children's services disability team. Before training as a social worker, she worked in the voluntary sector with adults with disabilities and who are Deaf. Through her professional training she has also worked within contact centres and secure wards in the hospital giving her valuable experience of different systems that affect people. Setting up Avocados with Katie has been a journey of learning and she is passionate about young people's voices being heard and the 'system' being better for those with care experience. She is a singing teacher and loves to play music in her spare time. Supporting young people to build their confidence is one of her favourite things!
Goodbye, closing for the day – and quick run down of the next day
🕘 17:15 – 17:30
👤 The SaFest Working Group
---
Day Four
Opening address
🕘 09:00 – 09:30
Together Drug and Alcohol Services
🕘 09:30 – 11:00
👤 Christie Heather
My name is Christie Heather, I am the Service Manager for Together South & West Devon. I have worked in substance misuse for 9 years. Before joining the South & West team, I worked within the Devon prisons' substance misuse team for 4 years, and left to take on the role of Criminal Justice Team Lead for Together. Criminal Justice based work still remains a passion of mine. I have been in the role of Service Manager since June 2021, and am currently the lead for both family work and hospital liaison within Together, with both being of huge interest to me.
Break
🕘 11:00 – 11:15
WayMakers - Communicating with Y/P Autism/Voice of The Child
🕘 11:15 – 12:15
👤 Alex Kelly
Alex has worked with neurodivergent young people and adults for over 20 years, first in mainstream and specialist education, before creating WayMakers in 2020. Delivering person-centred, strengths-based and solution-focused support to individuals, as well as training and consultancy to businesses and organisations, WayMakers is built on the premise that neurodiversity is everyone's business. Neurodivergent individuals can find strategies to navigate the world, but opportunities and access are limited unless the rest of the world around them are accepting and inclusive.
Safeguarding In Sport and The Lived Experience Voice
🕘 12:15 – 13:15
👤 Kelly Hounslow – National Working Group
Kelly has worked within children's safeguarding for over 20 years. She has been a front line practitioner within the local authority Youth Offending Service through to Children's Service Manager at Barnardos. Kelly has a wealth of knowledge supporting children and families who have lived experience of abuse in all forms, using a trauma awareness and responsive approach when working with everyone including her team.
Kelly can be contacted at Kelly@nwgnetwork.org
Lunch break
🕘 13:15 – 13:45
Promoting Resilience in Young People who misuse illicit substances
🕘 13:45 – 15:00
👤 Simon D'eath – Y-SMART
Simon De'Ath has been a Practice Manager working with Y-SMART young peoples substance misuse services for 10 years, He has been with the service since its formation 21 years ago when he joined as a substance misuse practitioner Historically from Norfolk, he joined Essex Police as a Police Constable, leaving after 4 1/2 years of service to focus more within the therapeutic world working with Young People. Simon therefore worked as an education welfare officer and was seconded within the Thurrock Youth offending team. In 2003 Simon Joined Y-
SMART , unable to resist the draw of Beautiful North Devon , in particular the surfing possibilities.
Through his time within Y-SMART, Simon has led the services multi agency training delivery , also acting as a consultant for the Royal college of Paediatrics and Child health for their substance misuse modules. In 2018 he was seconded out of the service to coordinate a training programme with partners from Police, Public Health nursing, DYS Space, The Reach team and the Domestic Violence services. This was delivered to PSHE coordinators within over 50 schools across Devon with the focus to promote resilience within our school communities. Simon returned back into Y-SMART after this project and has continued his core role within the service.
Tackling Gender Inequality and Cultures of Gender-Based Violence
🕘 15:00 – 15:45
👤 Natasha Eeles – Bold Voices
Natasha is the founder of Bold Voices, an award winning social enterprise that prepares and empowers educational communities to recognise and tackle gender inequality and cultures of gender-based violence. Natasha has an academic foundation in issues of gender and equality with an MSc in Gender and International Relations from the University of Bristol. She has facilitated workshops and delivered lectures on gender equality, feminism and women's rights at multinational investment banks, start ups, schools and universities across the UK.
Safer Spaces, Safer Places
🕘 15:45 – 16:45
👤 A range of speakers
This workshop will be delivered by a range of staff who are involved in the delivery of this project, which aims to keep the voice of young people at front and centre of the recommendations and work they are doing to help young people feel safer in their communities across Teignbridge.
This work will be look at what 'safer spaces, safer places' (SSSP) aims to achieve and what impact it has had on young people in their communities. This is your chance to hear first hand from the team working the project face to face with young people. We will cover what we have done so far, who we have spoken to and the areas we have worked in. Within this presentation we have included some young people's opinions on their local areas and what they feel needs to change to make them feel safer.
Goodbye, closing for the day – and quick run through of next day
🕘 16:45 – 17:30
👤 The SaFest Working Group
---
Day Five
Catch 22
🕘 09:00 – 09:30
👤 Sarah Parker – Research & Development Officer
Sarah is an experienced teacher and trainer. She has worked with children and young people in a range of contexts and projects, including education, youth homelessness, domestic abuse and family support. For the past seven years, Sarah has worked with children affected by exploitation. She joined Catch22 in 2017, first managing a service before becoming Research and Development Officer for the Young People & Families Hub in 2019.
Sarah is chair of the NWG Policy Forum and co-chair of the English Coalition for Runaway Children.
Sarah's session will introduce 'Catch On', a completely free, preventative educational resource about exploitation aimed at pupils in Years 7 & 8 and produced with input from children and young people who have been affected by exploitation. Sarah will cover the importance of explicit, preventative education; present the Catch On materials; and share the feedback from teachers and from young people themselves. Catch On can also be used in individual or group sessions with children in a variety of non-school settings.
Guidance on using checklist tools to identify level of risk attached to HSB
🕘 09:30 – 11:00
👤 Gina Cary – AIM
Gina Cary is a registered, qualified social worker for over 12 years. Prior to qualification she worked for many years as a Family Outreach Worker and support worker for Looked After Children, Since qualification, between 2008 and 2010 she worked as a Supervising Social Worker in Fostering and Adoption before becoming Senior Practitioner in a placement team and later management team in Worcestershire.
Since relocating to Gwynedd in North Wales in 2012, Gina has worked as a Social Worker in the Meirionnydd Children and Families Team. During this time her interest in working with young people who have problematic and harmful sexual behaviour developed and resulted in her having case responsibility for a number of cases across all ages and became a 'champion' in this field for her team. Gina is trained in the AIM models of assessment and intervention, adopted by Gwynedd and has carried out assessments under the AIM3 Model framework rolled out in November 2019.
In March 2019, Gwynedd Local Authority were successful in accessing funding for a PSB/HSB team and Gina's current position is setting up this specialist team, hosted by Gwynedd and Ynys Mon Youth Justice Service. This role involves providing support and guidance through consultancy with staff from all 14 social services teams and working closely with health and education practitioners to develop a multi-agency approach within Gwynedd. In 2020 Gina was delighted to be invited to become an AIM Associate trainer.
Break
🕘 11:00 – 11:15
Centre of Expertise on Child Abuse
🕘 11:15 – 12:15
👤 Liz Jones – Scale and Nature of CSA
Liz is a registered social worker with over 30 years experience working in the fields of children in need, children in need of protection and children in care. She has held posts as a practitioner, team manager and senior manager in three Local Authorities, including managing teams of Child Protection Conference Chairs and Independent Reviewing Officers and developing practice improvement frameworks for Children's Social Care. Liz has also managed two centres in the independent sector providing therapeutic support to children who have been subject to sexual abuse and their families. Alongside this she has also been a lecturer on a social work degree course and is a Practice Educator and trainer. She has a particular interest in Family Law.
Courageous Conversations
🕘 12:15 – 13:15
👤 Rachel Courage – Dialogue Consultancy
This immersive webinar offers a taster session with Rachael Courage and two actors, who will look at why families can become resistant and the challenges that carers and support workers face in having challenging, or as we prefer to call them 'courageous conversations'. We'll then touch on strategies as to how these challenges can be overcome, to ensure the children's best interests are at the heart of all of our decision making processes and conversations and getting the balance right. dialogue also run a full day training course on this topic which can be booked via the DCFP, or get in touch with us directly to deliver a full course to your teams at www.dialogueltd.co.uk/contact
Rachael Courage is a qualified social worker and highly experienced trainer and consultant for dialogue and Safeguarding Network, with a background in work around child exploitation and missing children in the voluntary sector. She delivers safeguarding supervision, highly evaluated child protection training, courageous conversations training, risk management training and is a part-time child protection chair with much experience in multi-agency work.
Rachael also authored the free training pack on Children Missing from Care, in collaboration with the NSPCC and the CHA.
Lunch break
13:15 – 14:00
Centre of Expertise on Child Abuse
🕘 14:00 – 15:00
👤 Liz Jones – Signs and Indicators Of CSA template
Liz is a registered social worker with over 30 years experience working in the fields of children in need, children in need of protection and children in care. She has held posts as a practitioner, team manager and senior manager in three Local Authorities, including managing teams of Child Protection Conference Chairs and Independent Reviewing Officers and developing practice improvement frameworks for Children's Social Care. Liz has also managed two centres in the independent sector providing therapeutic support to children who have been subject to sexual abuse and their families. Alongside this she has also been a lecturer on a social work degree course and is a Practice Educator and trainer. She has a particular interest in Family Law.