A naturally sweet teatime or lunchbox snack which is a great way of using up overripe bananas.
These recipes are designed for you to cook together as a family. The best bits for children to help with are shown in blue, and little hands can always help with measuring ingredients and washing up!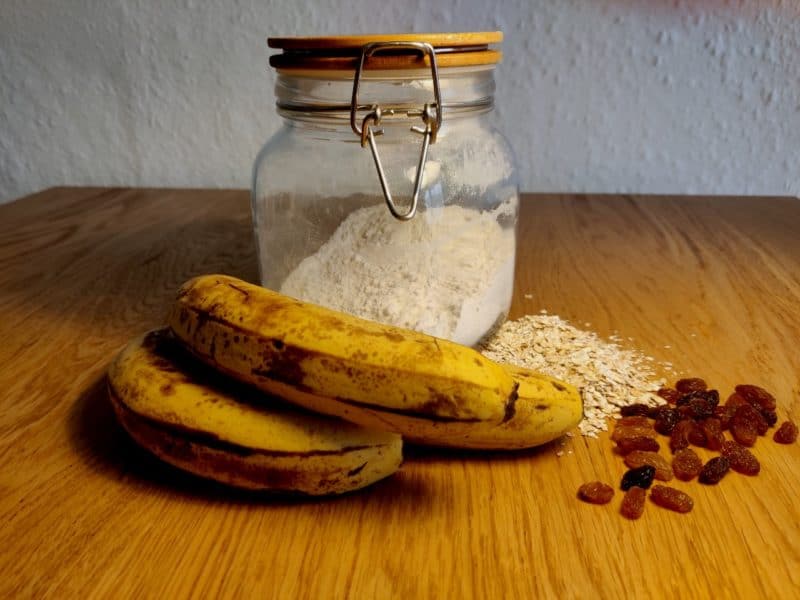 Ingredients
4 ripe bananas
100g or 1/2 mug raisins (optional)
120ml or 7 tablespoons sunflower oil (or rapeseed oil)
140g or 2/3 of a mug of wholemeal flour (or plain flour)
85g or 3/4 a mug rolled oats
Serves 8. Approximate cost per adult serving: 16p
Method
Preheat oven to 200C/Fan180C/Gas 6 and

grease your baking tin with a little oil

.

Mash bananas well with a fork or masher in the mixing bowl

.

Add all remaining ingredients and mix well

. If you are preparing this recipe for a baby under 12 months, chop the raisins up as they may be a choking hazard.

Pour into a greased cake tin

and bake for 45-50 mins. You can also make into smaller portions using a muffin tin or similar and bake for 15-20 mins.
Take out from oven when cooked through and leave to cool
Equipment
Baking tin (can use cake or muffin tin)
Jug
Fork / masher
Spoon
Mixing bowl
Modify Me
Add 1 teaspoon of almond essence for a nutty, sweet flavour.
You can also try adding chopped nuts if preparing for adults and children over 5.
Foodie Fact
Thanks to the combination of oats, wholemeal flour and oil, this cake will fuel your body with slow release energy and help keep you fuller for longer
Is there anything wrong with this page?
Help us improve
Don't include personal information.
"*" indicates required fields