These pittas are a quick, easy, and delicious light meal and you can choose your favourite veggies – anything works! Try chopping up veggies that are lots of different colours to see if you can 'eat the rainbow'!
These recipes are designed for you to cook together as a family. The best bits for children to help with are shown in blue, and little hands can always help with measuring ingredients and washing up!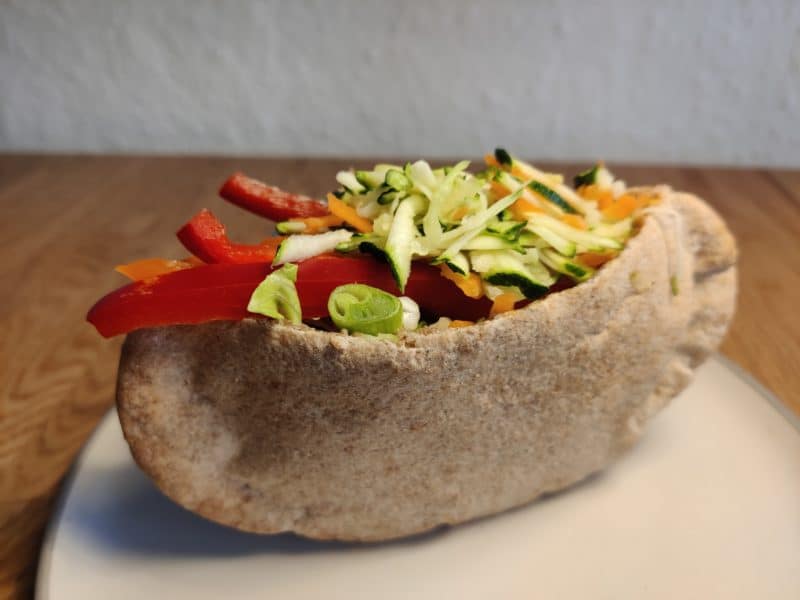 Ingredients
1 carrot, grated (or chopped very finely if grater not available)
4 wholemeal pittas
1 pepper, thinly sliced
2 spring onions
¼ iceberg lettuce or 1 baby gem
½ cucumber
¼ red cabbage, finely sliced
For easy chickpea option (vegan)
1 400g tin chickpeas drained
1 lemon, squeezed or 2 tablespoons juice
2 cloves garlic, finely chopped or grated
2 tablespoons oil
For Tzatziki option
250g or 1/2 tub Greek or natural yoghurt
1 lemon, squeezed or 2 tablespoons juice
2 cloves garlic, finely chopped or grated
½ cucumber, deseeded and chopped finely
1 teaspoon dried mint
Serves 4. Approximate cost per adult serving: 55p
Method
Prepare your choice of vegetables – grate the carrot and slice the cabbage, cucumber, lettuce, spring onions, and pepper. Chop or grate the garlic and set aside and prepare the chopped cucumber for the Tzatziki if using.
If you are making Tzatziki, in a bowl

mix the yoghurt, lemon juice, chopped garlic, mint and chopped cucumber together

.
If you are making the chickpea dip, bring a pan of water to the boil and add the chickpeas. Boil for about 5 minutes until they start to soften as this will make them easier to mash.

Drain the chickpeas and mash in a bowl with the lemon juice, garlic, and oil until a rough paste has formed

.
Preheat the oven to 180C/160C fan/gas 4. Lightly sprinkle each pitta with water and place in oven for a few minutes to warm up. Alternatively, you can pop them in a toaster for a short amount of time.
Cut each pitta in half down the long edge – be careful as they will be hot and may release some steam!

Spread your chosen dip inside the pitta and pack with veg

.
Equipment
Grater
Sharp knife
Chopping board
Bowl saucepan (optional)
Modify Me
For babies and toddlers, slice the pitta and other veggies into strips the size of your finger and serve separately. For veggies that are difficult for babies to chew such as carrots, offer this grated or pre-cook the carrot so it's softer.
If you have any leftover pittas, try freezing them for another time and toast straight from the freezer.
Don't fancy this recipe? Try making them into mini pizzas using passata, tomato puree or chopped tomatoes for the sauce, with whatever toppings you
fancy. Pop them in the oven or under the grill for around 5 minutes (depending on your toppings!).
Foodie Fact
Eating the rainbow means eating fruit and vegetables that are different colours. This means we get to eat a wide variety of vitamins and minerals as often different colours mean different nutrients!
Is there anything wrong with this page?
Help us improve
Don't include personal information.
"*" indicates required fields