A family favourite and a great way to use up some greens! You can pretty much include anything you have – fresh, frozen, and tinned all work well.
These recipes are designed for you to cook together as a family. The best bits for children to help with are shown in blue, and little hands can always help with measuring ingredients and washing up!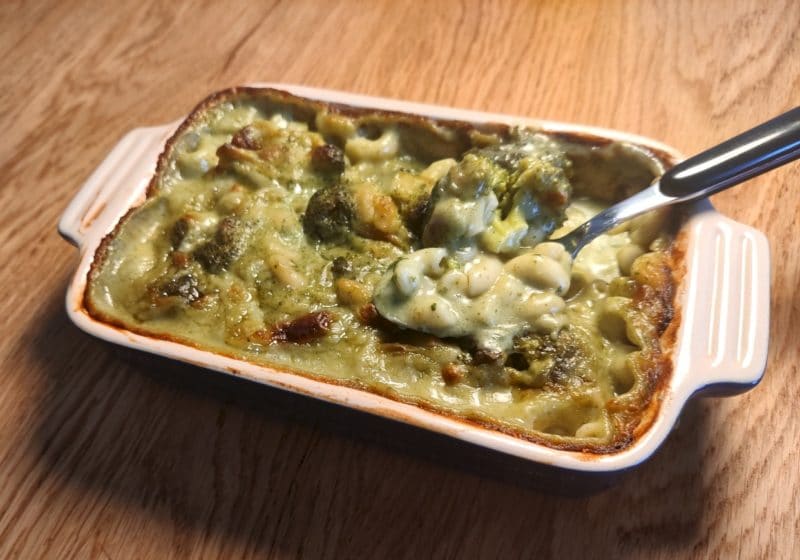 Ingredients
400g or 4 mugs macaroni pasta
1 head of broccoli, chopped into small florets
1 heaped tablespoon butter or spread
1 heaped tablespoon wholemeal or plain flour
500ml semi-skimmed milk (about a pint)
1 teaspoon mustard
1 bag of spinach
1 spring cabbage finely sliced
100g or 1 mug cheddar or other hard cheese, grated (or chopped very finely)
½ teaspoon cumin
Pinch black pepper
Serves 6-8. Approximate cost per adult serving: 76p
Method
Preheat the oven to 200C/Fan180C/Gas 6. Cook the pasta according to packet instructions. If there is enough space, boil the broccoli in the same pan for 4-5 minutes until soft, if not boil separately. Drain the pasta but keep ½ cup of the water, then set aside. Pour the broccoli and pasta into the oven proof dish.
Melt the butter or spread in a large saucepan over a medium heat and whisk in the flour quickly to make a paste.
Pour in a little of the milk and whisk constantly so it becomes smooth and thick. Add in the rest of the milk a little at a time, whisking constantly. Make sure the mixture is smooth before adding in the next bit of milk.
After adding all the milk, bring to the boil and whisk in the mustard. Then add the spinach and greens and allow to wilt down. Turn the heat to low and allow to simmer for 5 minutes until the greens are cooked and sauce is thick.
Take off the heat and stir in the cheese and cumin. Mash in the greens and whisk until you have a light green sauce.
Pour the sauce and the pasta water over the pasta and broccoli and mix together until the pasta is covered in the sauce. Bake in the oven for 20 minutes until golden and bubbling. (If you don't have time, skip this step and serve).
Equipment
Ovenproof dish
Large saucepan
Sharp knife
Chopping board
Whisk
Grater
Modify Me
For babies under 1, chop up the pasta and the veggies into smaller pieces. Alternatively offer the broccoli on the side in adult finger sized pieces so babies can feed themselves.
Try adding flakes of salmon into the mixture, fresh, frozen, or tinned is fine and will give a boost of Omega 3!
Foodie Fact
Green vegetables are rich in many different minerals such as iron, potassium, calcium. These are important for our immune system, bones, and blood cells. Did you know that broccoli is also a great source of Vitamin C?
Is there anything wrong with this page?
Help us improve
Don't include personal information.
"*" indicates required fields