These burgers are a great alternative to meaty versions and use store cupboard ingredients. You can experiment and add as much or as little spice as you like!
These recipes are designed for you to cook together as a family. The best bits for children to help with are shown in blue, and little hands can always help with measuring ingredients and washing up!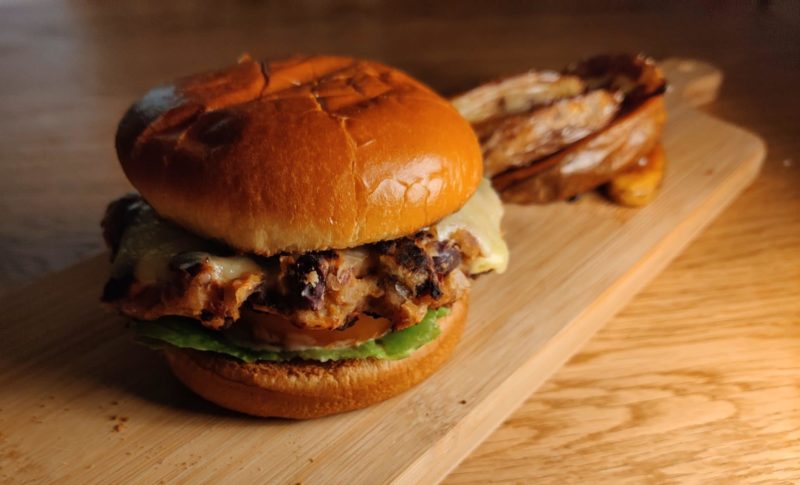 Ingredients
1 onion
1 carrot
1 400g tin kidney beans
1 teaspoon ground cumin
1 tablespoon flour
3 tablespoons oil
5 large potatoes, washed
To serve
4 burger buns or rolls
¼ lettuce
8 cherry tomatoes
Cheese
Teaspoon mayonnaise or your favourite sauce
Serves 4. Approximate cost per adult serving: 52p
Method
Preheat the oven to 200C/Fan180C/Gas 6.
Wash the potatoes to remove any dirt, cut into wedges and put on an ovenproof baking tray. Drizzle with 2 tablespoons of oil and mix until well coated. Cook in the oven for about 40 minutes or until golden.
Drain the kidney beans, rinse briefly under a tap and place in a saucepan. Cover with water and boil for 10 minutes to help soften them. Meanwhile, finely chop or grate the onion and carrot.
Heat half the oil in a frying pan over a medium heat, add the vegetables and the cumin and fry gently until soft.
Off the heat,

mix the vegetables with the kidney beans and mash together until you have a paste a bit like mashed potato

.

Add the flour and divide into four balls (or 2 large and 4 small). Roll and flatten to make burger shapes

. Having flour on your hands will make this easier! Tip: Chilling the burgers for at least 10 minutes before cooking will make them less fragile.
Heat the remaining oil in the frying pan over a medium heat. Cook for 3-5 minutes or until golden and crispy then carefully turn over to cook the other side. (To save energy, try putting them on a baking tray, drizzling with a little oil and popping in the oven alongside the chips for around 15 minutes, turning halfway).

Build your burgers in the buns with lettuce, sliced tomato, cheese and your favourite sauce

.
Equipment
Saucepan
Chopping board
Sharp knife
Grater
Frying pan
Spatula
Baking tray/oven dish
Modify Me
For babies and toddlers, cut the burger into sticks the size of your finger so they can feed themselves. If offering cherry tomatoes, make sure these are cut into quarters as they can be a choking hazard. Remember not to give your baby sauces such as ketchup due to added salt and sugar.
If you don't have any kidney beans, any other beans will work just as well!
Foodie Fact
Kidney beans and other types of beans are a great source of plant-based protein, needed for growth and repair in the body.
---
Adapted from Mayor's Fund for London Kitchen Social: Take & Make. Thanks to them for allowing us to share their recipe and video!
Is there anything wrong with this page?
Help us improve
Don't include personal information.
"*" indicates required fields