This easy casserole makes for some delicious comfort food! Enough of a meal to serve on its own or you can serve with some pitta, naan, or flatbread with a dollop of yoghurt.
These recipes are designed for you to cook together as a family. The best bits for children to help with are shown in blue, and little hands can always help with measuring ingredients and washing up!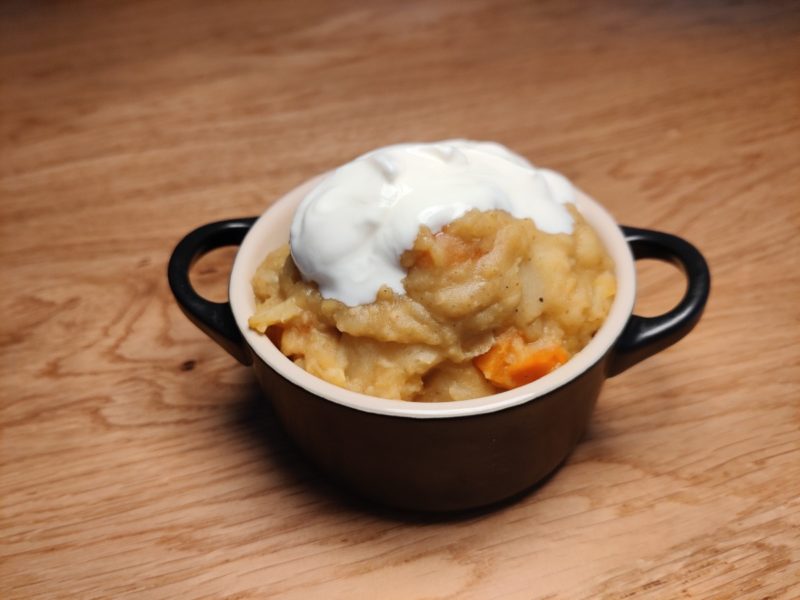 Ingredients
1 tablespoon oil
1 onion
2 garlic cloves
700g or 7-8 medium potatoes, peeled
and cut into small chunks
4 carrots, thickly sliced
2 parsnips, thickly sliced
2 tablespoons curry powder
1 litre (about 3 ½ mugs) water
1 vegetable stock cube
100g or ½ mug of red lentils
To serve
Natural or Greek Yoghurt (optional)
Serves 4. Approximate cost per adult serving: 47p
Method
Peel the onion

and garlic and finely slice.
Heat the oil in a large pan and cook the onion and
garlic over a medium heat for 3-4 minutes until
softened.
Tip in the potatoes, carrots and parsnips and turn the heat up slightly. Cook for 6-7 minutes, stirring often, until the vegetables are golden brown.
Stir in the curry powder, pour in the water and bring to the boil. Reduce the heat, add the lentils. Cover the pan with a lid if available and reduce the heat to low. Simmer for 15-20 minutes until the lentils and vegetables are tender and the sauce has thickened.
If making for babies, remove a small portion now, before crumbling in the vegetable stock cube and mixing well. Cook for a further 2 minutes.
Dish up and top with a dollop of yoghurt or dairy free alternative.
Equipment
Large saucepan or frying pan
Sharp knife
Chopping board
Spatula or wooden spoon
Modify Me
Mash the chunks of the potato, carrot, and parsnip for babies under 1 and make sure you remove a small portion before adding the stock cube – stock contains salt and too much can be bad for babies.
This recipe uses potatoes, carrots, and parsnips but you can easily use any root vegetables, and you can mix up the amount of each too.
You could add cubed meat in step 1 if you like – make sure it is sealed off before adding root vegetables.
Foodie Fact
Red lentils are an easy way to bulk up recipes and thicken sauces, as well as being high in fibre, which is good for digestive health, and being an excellent source of protein!
---
Adapted from BBC Good Food
Is there anything wrong with this page?
Help us improve
Don't include personal information.
"*" indicates required fields