his makes a tasty dish for lunch. The mango salsa goes nicely but if you can't get fresh mango then tinned or frozen works too! Make the salsa first so the flavours can infuse.
These recipes are designed for you to cook together as a family. The best bits for children to help with are shown in blue, and little hands can always help with measuring ingredients and washing up!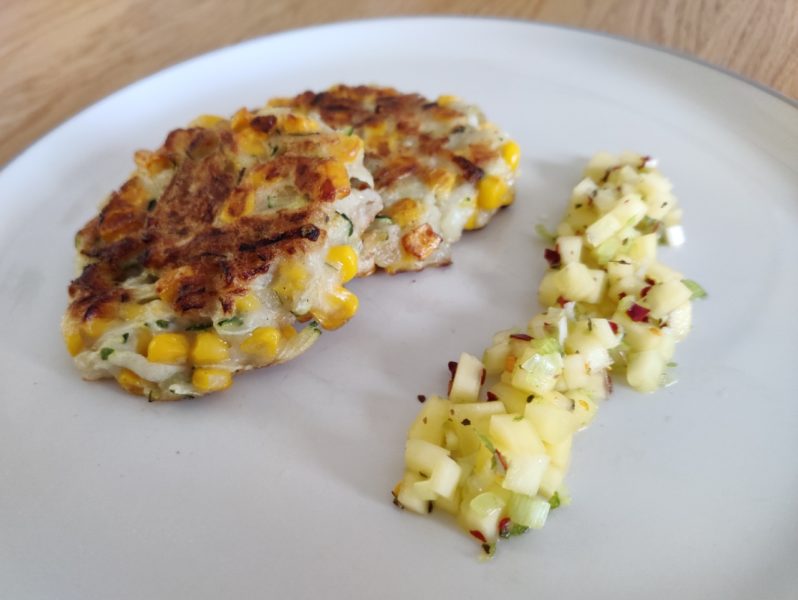 Ingredients
For the salsa
1 medium mango
2 spring onions
Pinch chilli flakes (optional)
1 lime
½ teaspoon dried mint
For the fritters
1 small onion
1 medium courgette
300g tin sweetcorn
150g or 3/4 mug wholemeal or plain flour
5 tablespoons water
2 tablespoons oil
Serves 4. Approximate cost per adult serving: 65p
Method
Cut the mango into small cubes and finely slice the spring onions with a knife or scissors. If preparing for a baby or toddler, slice into strips.

Mix the mango and spring onions in a bowl with the chilli flakes and add the mint or mint sauce

. Grate the zest of the lime into the bowl and squeeze in the juice. Leave at room temperature until ready to serve.
Grate (or slice very finely if grater not available) the courgette and

use your hands to squeeze out any excess water (over a sieve or a colander if




available)

.
Finely chop the onion and drain the sweetcorn.
Place the flour in a bowl and make a well in the flour. Add about 75ml of cold water and whisk to a smooth batter, then

add the sweetcorn and courgette and mix

.
Heat a frying pan with the oil. Spoon a dessert spoon of the mixture into the pan and cook for about 4 minutes on each side until golden. You can cook a few at a time if you have enough space.
Serve straight away with the mango salsa.
Equipment
Sharp knife
Chopping board
Mixing bowl
Whisk
Grater
Frying Pan
Spatula
Modify Me
For babies and toddlers, cut the fritters and the mango into finger sized strips they can hold them and try feeding themselves.
If you don't have courgette, you can make these fritters with other veggies such as carrots instead.
For more of a meal, try topping with a poached egg instead of the salsa.
Foodie Fact
Sweetcorn is a great source of B vitamins, which help our bodies to release energy from the food we eat.
Adapted from Mayor's Fund for London Kitchen Social: Take & Make. Thanks to them for allowing us to share their recipe and video!
Is there anything wrong with this page?
Help us improve
Don't include personal information.
"*" indicates required fields