This pasta dish is super simple and doesn't require too much effort. You can change the vegetables included to suit what you have – pretty much anything will work.
These recipes are designed for you to cook together as a family. The best bits for children to help with are shown in blue, and little hands can always help with measuring ingredients and washing up!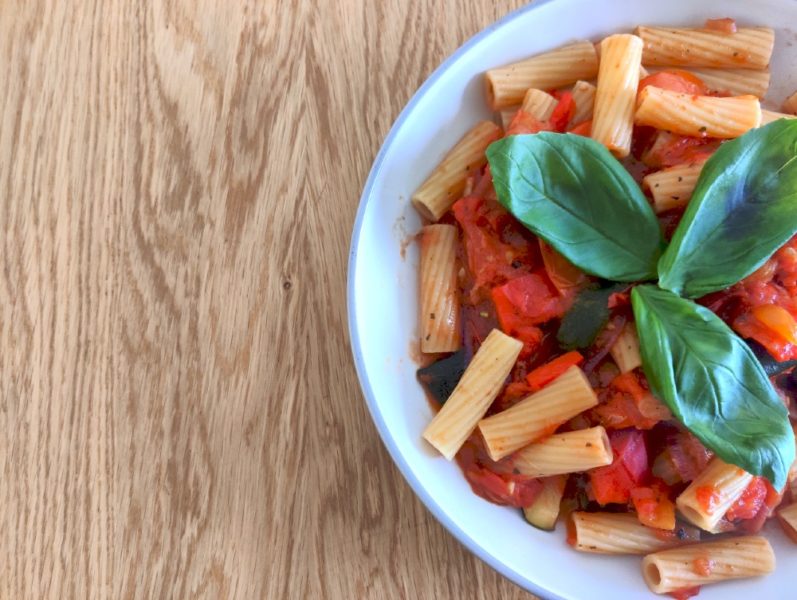 Ingredients
2 tablespoons oil
1 red onion
2 peppers (red or yellow)
2 courgettes
12 cherry tomatoes
3 garlic cloves
1 400g tin chopped tomatoes
280g or 3 mugs penne (or other) pasta
2 teaspoons dried basil
Serves 4. Approximate cost per adult serving: 84p
Method
Pre-heat the oven to 200C/Fan 180C/Gas 6.
Slice the onion and cut the peppers and courgettes into chunks. Peel and finely chop the garlic and set aside.

In the ovenproof dish, spread the onions, peppers, and courgettes evenly and drizzle with oil. Mix until vegetables are coated in the oil

. Place in the oven for about 30 minutes until vegetables are soft and edges are starting to slightly crisp.
After 30 minutes add the cherry tomatoes, chopped tomatoes, garlic, and basil, and cook for a further 10-15 minutes.
In the meantime,

pour the pasta into a saucepan

, cook according to the packet instructions and set aside. Keep a cup of the pasta cooking water.
Remove vegetables and sauce mix from the oven, add the pasta and 4-6 spoonsful of the pasta water and stir through.
Equipment
Ovenproof dish
Saucepan
Sharp knife
Chopping board
Modify Me
For babies under 1, chop up the pasta and vegetables and make sure the tomatoes are squashed.
This also works well with most other veg. You can use frozen veg too!
For a smoother sauce, use Passata instead of chopped tomatoes.
If you eat fish, try adding 1-2 tins of tuna into the recipe to make tasty tuna pasta.
For a meaty alternative, try making homemade meatballs and adding them in at stage 3.
Foodie Fact
Tomatoes are high in antioxidants which can help keep our cells healthy and defend against damage caused by things such as air pollution.
Is there anything wrong with this page?
Help us improve
Don't include personal information.
"*" indicates required fields